Rian Geldenhuys again named as one of World's Leading Trade and Customs Lawyers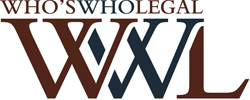 We are delighted to announce that Rian Geldenhuys has again been named by Who's Who Legal as being one of the world's leading Trade and Customs Lawyers.
This is the third consecutive year that Rian has been selected by his clients and peers and the recognition has just been published in Who's Who Legal: Trade and Customs 2018. According to Who's Who Legal "Rian Geldenhuys is a standout name in the South African market who comes highly recommended for his impressive knowledge of international trade and investment law".
© Trade Law Chambers 2018